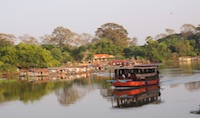 The Sakaekrang River is the blood vessel of the town
originating in the massif called "Mo Ko Ju" in the province of
KamPhaengPhet, and converge with "Chaw Pra Ya" river at
"Baan Ta Sung" village, Uthai Thani. The Sakaekrang river has
225 kilometers in length. It has many names depending on
where it flows through.

Along the river, there are a lot of floating houses, which are
reflecting old life style of people here. People are mostly making
fish farm, such as "Pla Rad", "Pla Tepo", and "Pla Sawai". All
floating houses here have their own addresses. (ONLY one in
Thailand) So, people who live in the floating houses will have
the rights and privileges like others may have on the main land.

You would enjoy crusing along the river to see the way of
living of the raft-house people and other places like Wat
Ubosotharam (A temple also called "Wat Boat"), which has
many beautiful architectural styles from Rama V era.



Give food offerings to a Buddhist monk

River Cruise

Shopping @ Municipal Morning Market

Kayaking / Boat Paddling / Water Cycling

Fishing

Bicycling / ATV

Swimming

Playground / Camp Fire

Traditional Thai Massage